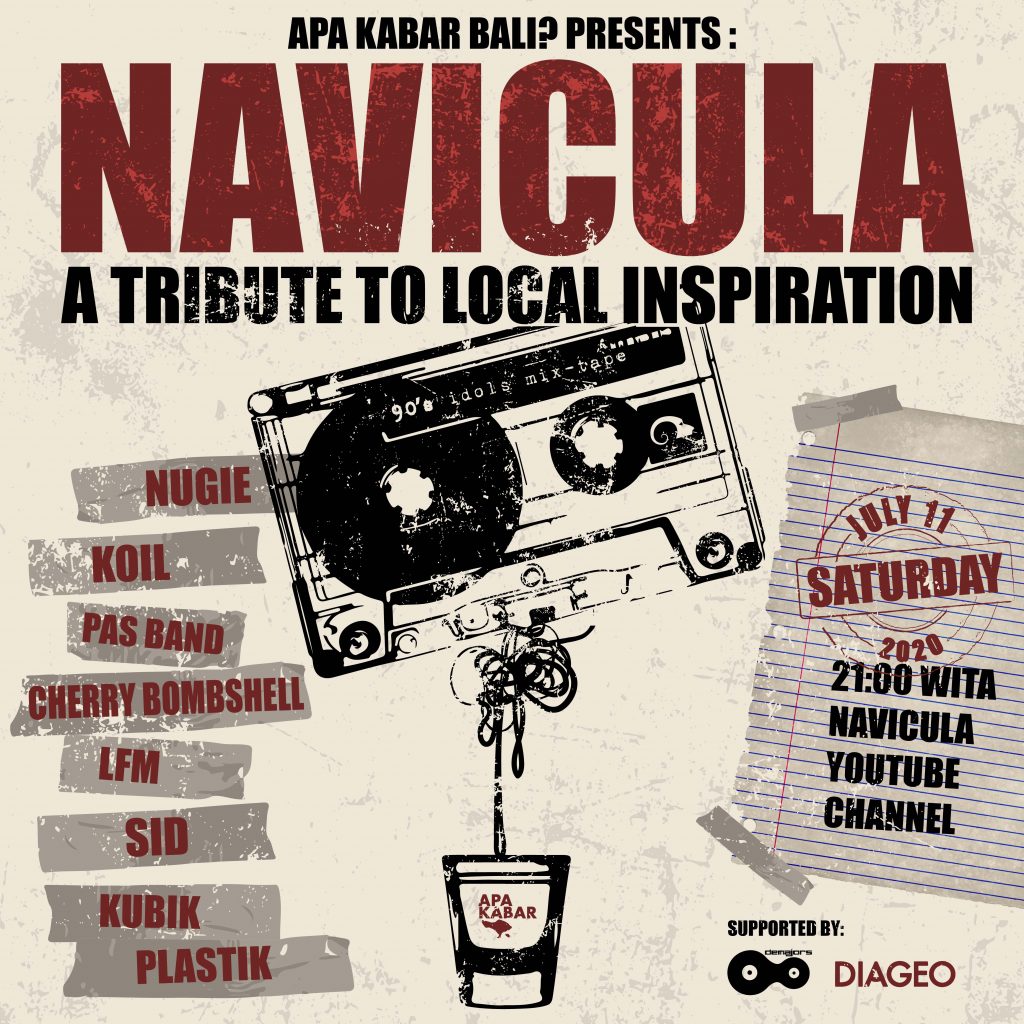 The Covid-19 Pandemic ravaged the economy, not only Indonesia but globally. We've had to stay put at home.
But every problem has its lesson. More time at home gives us more time to reflect, look inward and be creative to survive. We begin to observe the potential of what is around us and map the existing values.
As a musician, I began to rearrange the contents of my music studio at home, which before the pandemic was almost always a mess, because I was often away on tour.
As I unpack the cassette collection, I reminisce about the countless bands/musicians who have influenced the music I've made with Navicula since Navicula's inception in 1996.
These bands, Koil, Kubik, Cherry Bombshell, Pas Band, Nugie, Plastik, Superman is Dead, LFM, and many other Indonesian bands have had a very strong influence on the Indonesian music industry.
I was interested in the term Indie or independent, because Pas Band popularized it at that time. I felt and passed the melancholia of ABG at that time with the lyrics of Matel from Kubik. Hung out with friends while singing the Plastic song. Being mesmerized by Koil's "attitude" and dark lyrics. And, my band, Navicula, both started their careers from scratch and participated from the start in establishing and growing the indie music scene in our hometown, Bali, together with our comrades, Superman is Dead.
These bands that I have heard since high school are what accompany my dreams. What makes music and being in a band is something very meaningful. Our money and time are spent on music. If someone says that your religion is where our time and money is spent, then clearly that is the role of music for us at that time. Even today.
Music is a living soundtrack. Adolescence is the best time for us to absorb influences from the environment; what we see, hear and feel. The songs you heard as a teenager could be a playlist in your heart forever.
Without these bands, Navicula would not be the Navicula we hear today.
Now, at this time, in the home studio, I invite my brothers in the band to prepare altars, light candles, make concert rituals and record. We make a celebration for INSPIRATION.
On the basis of these memories, Navicula collaborated with Apa Kabar Bali? (a news program from Kopernik, located in Bali) and Demajors (a record label and distribution, located in Jakarta), to make a new album, which contains 8 songs created by their idols. The profits from the sale of this album will be fully dedicated to all of their inspirations mentioned above and part of the profits were donated to a collaborative project with arak craftsmen in Bali to be able to continue to produce hand sanitizer raw materials which they will distribute to all medical service facilities and the community.
Watch "Indigo Child" A Tribute to Local Inspiration on the Navicula Youtube channel.